Home port: Rostock
Location: The whole world
We are Marine- und Automatisierungstechnik Rostock GmbH (MAR GmbH). For more than 25 years we have been developing tomorrow's solutions for our customers today.
We are the movers and shakers in the background for everyday life, because we can be found wherever processes and workflows need to be automated, visualized or evaluated and thus made more efficient and transparent.
Our company offers innovative and customized software and automation solutions for our customers in various industries, e.g. in the food industry, mechanical engineering or water / wastewater management. As the only service provider in Northern Germany we equip offshore converter platforms with weather, navigation, radio and communication technology. Furthermore, we are active in the field of production control of cable harnesses in the automotive industry. Our home port is in Rostock. From here we serve customers all over the world.
Join us on the road to success and become part of our team in which we want to shape the future.
APPLY NOW
What can we achieve together?
Be who you are and show us your strengths.
We are looking forward to your application.
MAR Marine and
Automation technology Rostock GmbH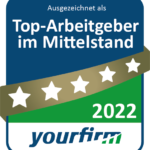 Hundsburgallee 9c
18106 Rostock
Phone +49 (0)381 86509 - 0
Fax +49 (0)381 86509 - 29
bewerbung@mar-hro.de
ePlan is not a road map? AutoCAD can not meow? Are you enthusiastic about equipment labels, terminal diagrams and connection lists? Great, then we speak the same language!
We are looking for a project engineer in electrical engineering with immediate effect.
Project Engineer* Electrical Engineering at MAR means
As part of the team, you will take responsibility for the implementation of projects in the field of control cabinet design. Project processing and management with a focus on project management, electrical and mechanical control cabinet design (ePlan, Autocad, Elaplan-K), in each case alone or in a team Contributing experience and ideas for the continuous development and optimization of our products and services in order to offer our clientele added value on the market Implement innovative & sustainable solutions for our customers in the project business Preparation of quotations or technical input for calculations, clarification of specifications Inventory taking at the customer's site in preparation of e.g. retrofits or plant expansions working hand-in-hand with our automation engineers Commissioning of the planned electrical systems together with our fitters and automation engineers, mainly in MV. to look after our customers in a committed and cooperative manner and to support them in the acquisition of new customers
As an electrical engineering project engineer at MAR
you know that you will never stop learning - you are reliable, independent and solution-oriented you are a team player, because only together we are strong you have completed vocational training in electrical engineering or mechanical engineering with relevant work experience you already have experience in the field of project management and coordinate subcontractors in the field of assembly you are enthusiastic about the current technologies in the field of control cabinet construction you are not too shy to touch a wire yourself from time to time you can communicate confidently in German and English friendly and trustful contact with customers is no hurdle for you
MAR Rostock GmbH
We are looking for: Project Engineer Electrical Engineering m/f/d
Location: Mecklenburg-Western Pomerania>Rostock
Employment relationship: Full time
Career level: completed training|with work experience
We offer:
Varied activities in a young, dynamic and motivated team with flat hierarchies and fast decision-making processes
An interesting field of activity with many opportunities to contribute your own ideas and competencies and to actively shape processes
Flexible working hours with good work-life balance
Regular company events (canoe trips, bowling, karting and Christmas parties with partners)
Development opportunities in further training and certification processes
An above average payment
Apply now and become part of our future!
Only applications in PDF format can be considered!
Applicants planning to move to Rostock can contact the Welcome Center of the Rostock region free of charge. The central point of contact provides support in the search for housing, childcare options, job prospects for the partner moving with them, leisure activities and much more. Further information at: www.welcome-region-rostock.de
Interns and graduates (m, w, d)
for our head office in Rostock

We are always looking for interns and graduates in the fields of automation technology, computer science, electrical engineering or related fields of study. We offer you a modern internship at the highest technical level, qualified employees and interesting development opportunities.
Interested?
If you are looking for an internship in a long-term emerging technology industry, please send your application to our HR department.